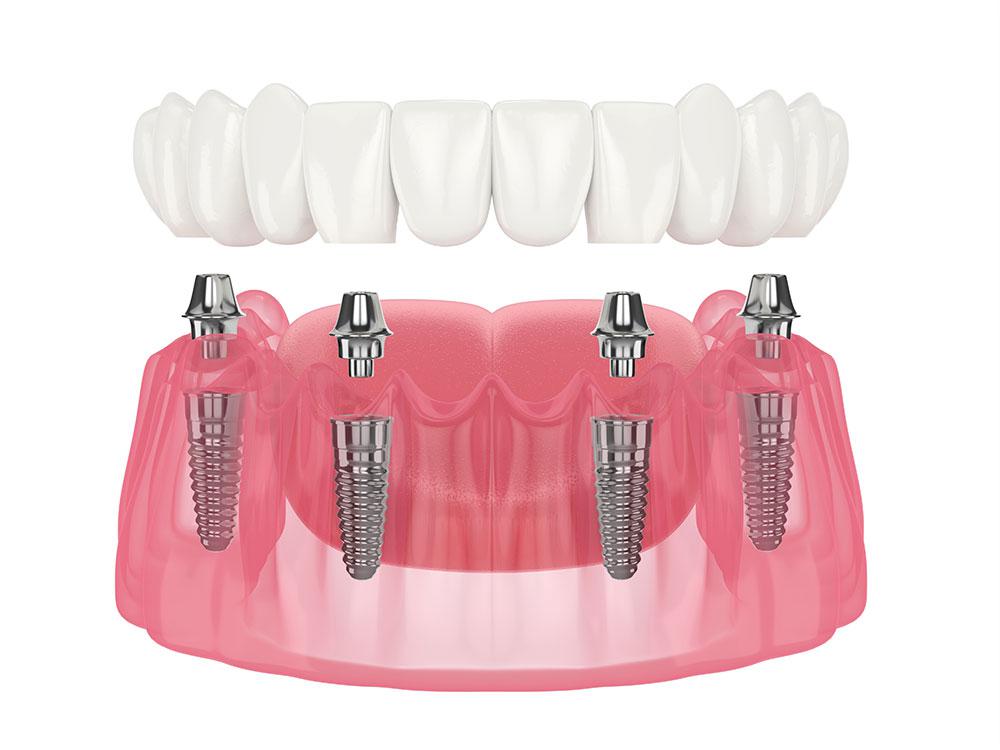 A single missing tooth can adversely affect your vital functions, such as chewing and speech. This problem becomes more severe when someone has lost all or most of their teeth. Multiple missing teeth have severe oral and overall health consequences. They compromise functionality and alter your facial proportions, affecting your appearance and aesthetics. All this can lead to a person feeling self-conscious about themselves, which further affects how they interact in their personal, social and professional lives. This can put a dent in their confidence and adversely impact their life.
Therefore, it is imperative to maintain good oral health and promptly seek treatment for missing teeth. For a long time, traditional dentures were the only teeth replacement solution for people who have lost all their teeth. Owing to the drawback which accompanies traditional dentures, a need for a more permanent and reliable solution was left. This led to the advent of All-on-4, implant-supported and fixed dentures. This blog will discuss everything you need about all-on-4 teeth replacement solutions in Phoenix, AZ.
What is all-on-4?
Instead of using one implant for each missing tooth, the All-on-4 dental implant teeth replacement solution utilizes only four dental implants per arch to restore a completely edentulous mouth.
For complete rehabilitation, 8 dental implants are placed in total, 4 in the upper jaw and 4 in the lower jaw in precise locations. All-on-4 also supports immediate loading for the prosthesis. This means you can get a complete set of teeth in 24 hours. Owing to this, All-on-4 is also known as a teeth-in-a-day or smile-in-day solution.
Treatment planning for all-on-4
Proper treatment planning for all-on-4 is one of the structural elements of complete rehabilitation that contributes to your treatment's success. It allows us to plan accurately, prepare, and, depending on measures taken, determine the cost of all-on-4 in Phoenix.
The first step is a consultation. When you come in for a consultation for all-on-4, our surgeon will carefully evaluate your oral health, the quality of your jawbone, surrounding tissues, and overall health.
Next, they will guide you through all the steps of the procedure. This is a great time to ask any question or concern you may have. Please do not hesitate, we are here to assist you with brilliant oral health, and that means answering any and all questions you may have regarding your procedure. During this time, they have also suggested you go for radiography, most commonly, a CBCT. This gives us an idea of your bone's structural quality and quantity. We may also take some pre-operative pictures, which further aids in treatment planning and execution. The size of your implants and placement location is also decided during this period.
All these radiography and intraoral scanning aid in preparation of a surgical guide. A surgical guide ensures accurate dental implant placement contributing to exceptional and reliable results.
Your overall health status is also taken into consideration before your final surgery. Dental implant placement is usually done under local anesthesia, but in some cases, we may opt for general anesthesia or sedation. Therefore, a proper medical check-up is mandatory to rule out any condition that may provoke complications. In the presence of any such condition, the underlying cause is identified and treated before your surgery begins.
Once all is clear and done, you are scheduled for your all-on-4 dental implant placement surgery. Small incisions are made on your upper and lower jawbone. Next, specialized drills are used in accordance with the size of your implants to create 4 holes in each of your jawbones. This hole is further elaborated, and dental implants are placed. All these steps are taken under a surgical guide which ensures precise placement and contributes to the higher success rate of your treatment.
Next, the incisions are closed with the help of sutures, and abutments are placed, which will help seat the fixed prosthesis. A temporary prosthesis is then fit to these implants and secured. The bite pattern will be checked and verified and any corrections, if needed, will be done. The healing process now begins.
How long does recovery take after the all-on-4 procedure?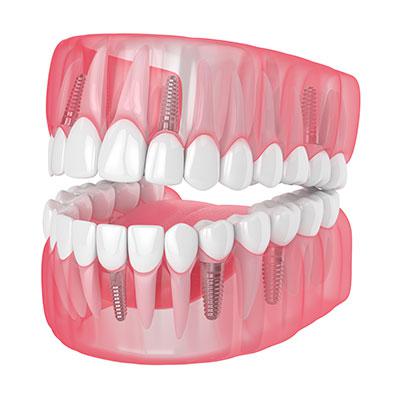 After the placement of your dental implants, you will be required to follow a standard guideline for post-operative oral care. You will be prescribed pain-killers and antibiotics as needed, and instructions for keeping your mouth clean will also be given. You must maintain good oral hygiene as this will aid in timely and proper healing. You will be on a soft diet for the first three months. This is the time frame when your dental implants will fuse to the bone. This process is known as osseointegration and may take 3-4 months. During this time, you will be scheduled for regular follow-ups to ensure everything is healing well and prevent any complications from occurring.
Once the implants have healed and integrated with the jawbone, a permanent set of the prosthesis is made. At this time, you can also broaden the variety of food you eat and can return back to eating whatever you like. No more restrictions! Fresh impressions and scans are taken after the removal of your temporary prosthesis to craft your final prosthesis. The temporary prosthesis is put back on until the final one is ready.
In your next appointment, you will be fitted with your fixed final prosthesis. The bite is again checked and verified, and you are ready to show off your permanent smile!
How to maintain all-on-4 dental implants?
All-on-4 is fairly easy to maintain in comparison to traditional dentures. Once they heal, you just have to maintain good oral hygiene to ensure they last long. Brush like you usually would, twice a day, with a soft-bristled toothbrush for at least three minutes. Make sure you floss out any accumulated debris. Rinse your mouth after you eat, and that's all. You will have a long-lasting, dazzling smile by just abiding by these simple measures.
If you think you may benefit from all-on-4, then schedule an appointment with Dr. Alexander Kim today. For any more questions, please reach out to us. Our team of excellent professionals is here to assist you in oral and overall health.